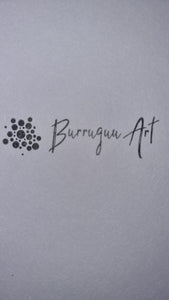 Burruguu Gift Cards, the perfect gift for someone who has been after a Burruguu creation or searching for that perfect art piece. They can be used towards any product on my website and commission pieces. 
Along with the gift card code I would love to send a Burruguu postcard to the recipient, please email if you would like this done with the name and message you would like on the postcard and I will send it out. 
Please note Gift Cards cannot be used towards Burruguu artworks being sold at separate galleries, markets, exhibitions, collaborations not on my website or any third party stocking Burruguu artworks or products. They can be used towards a commission piece but a gift card does not guarantee a commission artwork as these spaces are very limited. 
Please email with any questions regarding gift cards or for a different gift card amount.